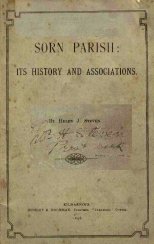 Reset by Kenny Baird
1998

This book was kindly loaned by Elizabeth Robb, of Sorn. Thank you to John Faulds for arranging the loan, and the additional assistance. A signed copy was offered by Sandy Park of Kilmarnock, who has connections at Auchenlongford Farm, Sorn.

A full version of this book is available as a pdf file. Right click and save target as..