Sorn
By James Edward Shaw 1950

Sorn, formerly called Dalgain, was disjoined from the parish of Mauchline in 1658. The River Ayr winds through the parish for several miles in quite delightful sylvan scenery. The population of the parish in 1755 was 1474; in 1831 it was 2779; in 1931 it was 3369. In 1786 Claud Alexander of Ballochmyle commenced the cotton and bleaching works at Catrine which now belong to James Finlay & Co. At that time there were only two families in the village- the miller and the blacksmith; in 1837 there was a population of 2702, chiefly supported from the cotton and bleaching works. I can remember, as a child, being taken over to Catrine to see what was said to be the largest wheel in the world driven by water.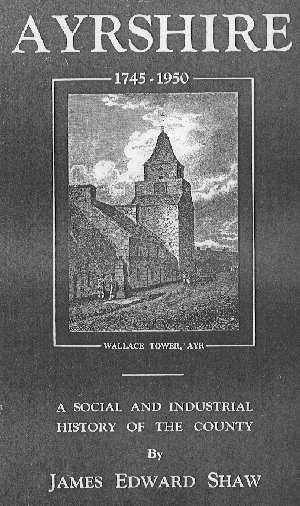 Alexander Peden, the prophet, was born in the year 1626 in or near Sorn. Sorn Castle was a place of eminence; in 1727 it belonged to the Dowager Countess of Loudoun, and was sold to William Tennant of Poole in 1782; it was purchased by Mr. Somerville, of a mercantile establishment in Glasgow, in 1795. His daughter, Agnes Somerville, who was evidently given the usual Scottish courtesy title of Mrs. although unmarried, succeeded after the death of his son, William. She purchased Dalgain and became proprietress of about two-fifths of the parish. Graham Somerville, who succeeded her, must have been a relative, and was a man of considerable reputation. His son, James Somerville, led what might be called a rather chequered career; he was clever and might have done well, but he was quite unstable. The entail was broken and the property sold to Mr. McIntyre, who made extensive improvements to the castle and grounds and was succeeded by his son, Gordon McIntyre, Lord Sorn, one of the Senators of the College of Justice. He served with the Ayrshire Yeomanry in the 1914-18 war and was wounded.
Ayrshire 1745-1950, By James Edward Shaw
A Social And Industrial History Of The County
---
Back to history and articles