Woodlea & Wool Mill / New Mill
---
Photo Elizabeth Robb
Left: A postcard view of the "Wool Mill", dating back to around the turn of the century. The Mill building is over twice the size as that in the image below, and careful observation shows that at one time it had been extended to. ( 7 windows on the extension). However the image below is newer than the above, and the mill once again taken back to it's former size.
Right: The postmark on the back of the card dates from 1904.
---
| | |
| --- | --- |
| | |
| Photo Chris Lees | Photo K Baird, L Stewart |
Left: Woodlea, sometimes known as The Sweet Pea House, long before there were houses built in the field. The Mill is on the right, and Woodlea on the left. Woodlea was built in 1900, and the garage at this side, built in 1931. The greenhouse on the old image is on the same site as the old wash house building for Woodlea.
Right: The same view taken in 1998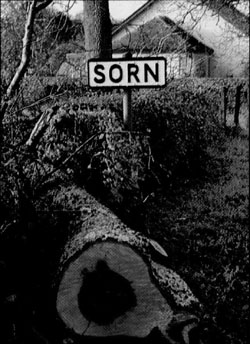 The village boundary used to be at the other side of Woodlea

---
Photos Chris Lees
4 snapshots of the house known as The Wool Mill. The lady seated top left is Meg Lees.
Btm Right: An image with part of the old mill building to the right hand side.
Chris lived in the entry to the left of the collie, and upstairs.

---
Photos - John Clark Maddison
The dam, which fed the Wool mill, and right, with Sorn village in the background.
This is still known locally as The Heagh Dam, despite there being very little trace of a dam left.
---
| | |
| --- | --- |
| | |
| Photo Chris Lees | Photo K Baird, L Stewart |
Left: Ducks and geese swim in the lade, taken from the Mill looking towards Glenlogan to the East.
Right: The lade looking east towards Glenlogan in 1998, perhaps one of the few reminders of former times.
---
Back to Mills Around Sorn

Back to Sorn Home Page