AYRSHIREHISTORY.COM
PRESERVING THE PAST . . . . FOR THE FUTURE


FLOOD ON THE RIVER AYR - AUGUST 1966
Below is a scan of a cutting from the Cumnock Chronicle from August 19th 1966. This was the year of the so called "big flood" that occured along the River Ayr. Inspired by a discussion in the Black Bull in Mauchline in April 2011, I have unearthed these old cuttings. Alas, so far it seems that I have made a pig's ear of the scanning, and missed quite a bit of the original. I have to assume the page was whole when I borrowed the cutting. I shall try and get a better copy to include here. The hi res scan, available by clicking on the smaller version, is around two and a half meg, but most people's broadband can easily handle this these days. The paper at this time was Glasgow Herald size I believe, and thus the file size has to be large to retain readability.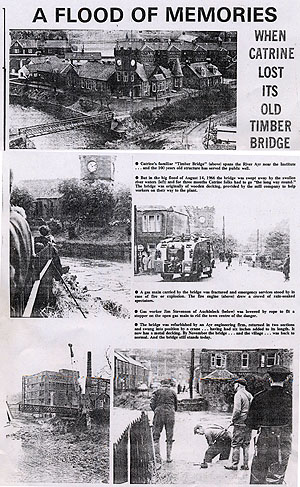 A page from the Cumnock Chronicle, perhaps 1976, or 1986, 10 or 20 years on from the flood on the River Ayr. Sadly no date with this bad quality photocopy.
At Mauchline, The Haugh Bridge was badly damaged by the flood. The plaque and the black and white photos are courtesy of Robin Tannock, while the coloured image of trees stuck at the bridge is courtesy of unid contributor. (Forgotten at this moment. Update when remembered)
At the back of the Main Street, in Sorn the results of the swolen river during the night are seen in these two slides. Below, the Auld Brig by Sorn Church was damaged and closed for some time to enable repairs.