AYRSHIREHISTORY.COM
PRESERVING THE PAST . . . . FOR THE FUTURE

Like the twin towers of The Killoch a few miles away, "The Barony Lums" at one time were a familiar mark on the landscape for miles around.
Below are two separate sets of photos of The Barony Lums being demolished. I seem to remember it was a Sunday morning or something and I wasn't out of bed in time to go and see it, after the night before. Something like this anyway. Does anyone have the exact date?? Late 80's is my best estimate. Robin's photos were taken by his late father, Bob Tannock of Mauchline.
Images courtesy of Robin Tannock
Images courtesy of Norma Girvan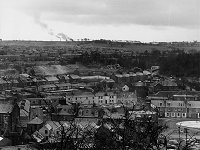 Image Library & Info Sce, EAC
A view of how the Barony was seen from the Brae Tap Catrine.