AYRSHIREHISTORY.COM
PRESERVING THE PAST . . . . FOR THE FUTURE


MAUCHLINE CALLING - DAVE TANNOCK, GM2BUD


Info from an old Mauchline Exhibition courtesy Nancy Moffat

Dave Tannock was the local ham radio operator in Mauchline. The QSL cards above are common exchanges amongst radio folks. The left hand image was obtained on ebay, and is of 1949 vintage. The card on the right was the card used in more recent times. Dave, now a "silent key" since the 90's I believe it was, also featured in the occasional local newspaper article about Ham Radio. I have to apologise for the "photocopy" quality of Dave in his "shack".
Mauchline since Dave's pioneering times on the radio has also been home to countless CB radio operators, especially during the early 80's CB craze. Mauchline even had a low powered FM radio station broadcasting during some Holy Fair weekends and Gala Day events!!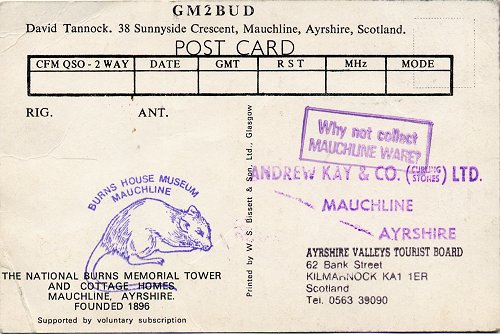 ===================================================================
GB250RB
Ham / Amateur special event stations run by the Kilmarnock & District club were regular visitors to the Holy Fair days. A special event call sign was allocated to use during the 250th anniversary celebrations in 2009. The station, GB250RB operated from Mossgiel field during the ploughing match, and from the Burns Tower during the Holy Fair 2009. Some images of the set up are seen below.
GB250RB is not a new idea though. 50 years before, there was GB3RB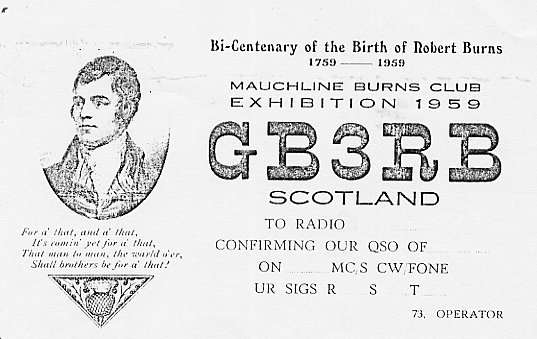 GB250RB is not a new idea. 50 years before, there was GB3RB