2013 - 2012 - 2011 - 2010 - 2009 - OLDER ENTRIES
THE RIVER AYR ICE DAM:
The River Ayr has provided us with spectacular views of ice and frozen Arctic style scenery, not seen here in a long time. There is a video to add, which will be uploaded pretty soon, of the ice breaking up before Christmas.
But on 30th December after much chatter in the area, and national press coverage, a visit was made to the Stepping Stones, just outside Ayr. The ice dam is absolutely awesome.
CLICK HERE FOR PHOTOS OF THE STEPPING STONES, AYR ON 30/12/10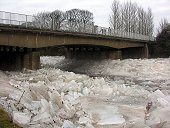 Some friends, who call themselves THE EARLY OOTERS, have some equally spectacular photos on their blog pages.
CLICK HERE TO VISIT "THE EARLY OOTERS"
NO UPDATING DONE IN NOVEMBER:
No work completed on this archive this month. Been a busy month with other projects. We were saddened to learn of the death of another of ayrshirehistory.com contributors. Billy Frew of Sorn passed away recently, and details of his active life were published in an obituary in the Glasgow Herald.
NEW ROAD SIGNS IN MAUCHLINE:
Jimmy Davidson who has been instrumental in the battle for recognition of the Burns connections in Mauchline, provides images of the following signs, soon to be a part of the Mauchline landscape.

DEATH OF HARRY YOUNG OF POOSIE NANSIE'S:
It is with great sadness that we announce the death of Harry Young, husband of Marion from Poosie Nansie's Inn, Mauchline. Harry had been ill for some time. He was 71.
Funeral arrangements are for Thursday 21st October. 2pm in Mauchline Parish Church, and 2.30 at Mauchline new cemetery, followed by funeral tea back at Poosie Nansie's.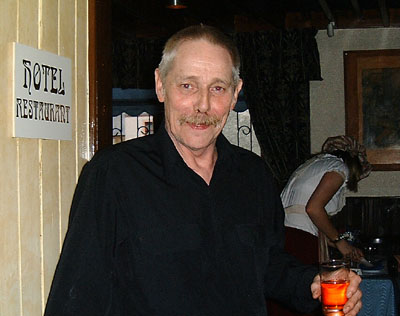 NOT TOO MUCH WORK DONE ON THIS SITE:
Due to other commitments, there has not been too many updates in the last few weeks on this site. There are a few other additions due to be added soon though. Keep watching, and checking back.
CATRINE HISTORY GROUP:
Thursday last, 14th October, I had a nice evening spent at the Catrine history group. The subject for the evening was old Mauchline, and I think everyone had a good night. I wish I had taken a phone number though for someone who is going to look out a photo of "Kemp's Hoose" by Barskimming Bridge.
MAUCHLINE WARE COLLECTORS CLUB - ERROR:
While on the subject of obvious errors, (which none of us are above I hasten to add) I will draw your attention to an error of judgment in the Mauchline Ware Collectors Club Magazine. Thanks to Jimmy Davidson for lending me the publication.
In the April 2010 edition, a photograph appeared within the pages, labeled as Mauchline Boxworks on fire. The said building in Mauchline, while the victim of a fire, was certainly not in the photograph published in the journal. The photo has been on line here for many years, and is of the old mill in Catrine on fire in the 1960's. Did not the coloured image give some indication that the date was probably not in the 1930's?? Is that the guy who was playing with matches that is jumping the wall??? lol...
You can see from the photo given below that the Mauchline factory looks nothing like the large mill building.
All images below have a high res version, seen by clicking on them.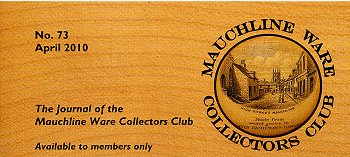 Catrine Mill on fire. A much clearer view of the same image has been on this site for about 10 years.
To view further images of Catrine Mill on fire, click here.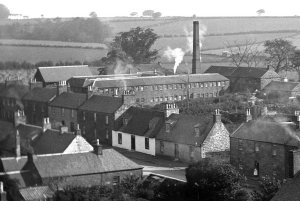 This is how the Mauchline Ware factory really looked, pre 1899.
HYSTERICAL SCOTLAND
It was drawn to my attention a couple of years ago, that a book had been published about Mauchline by Historic Scotland. I urge the reader to have a look what a group of so called experts have put their names to, published and expected libraries and schools etc to use as gospel!!! Have a look and ask yourself this. Would you like your kids to be punished by an equally ill informed teacher for correctly answering that Burns died in Dumfries, and not in Mauchline?? Have a look at the above link, and see if this resembles a small typing error that can happen to the best of us. Incidentally, research for the book also included the "Burns Bible" for Mauchline, John Taylor Gibb's Mauchline Town & District book.


Click here to view the offending page, (after the title pages)
MORE PDF FILES ADDED:
I have been digging around in the archives here at ayrshirehistory.com and found a few odds and ends that have been waiting for a long time to be used on line. I have made a small file with selected pages of an old autograph book from WW2 which belonged to a nurse at Ballochmyle. Tnx to the Quinn's of Kilmarnock for the book, about 10 years ago!!! Should be on line in early August.
I have also been looking at the best way to use some material that is hidden away from public view, which I have only bad quality photos of. I could really do with scanning much of the material I have in mind, from the former collections of John Taylor Gibb, but it is not kept in Mauchline any more.
PDF FILES ADDED:
July has been quite a constructive month as far as ayrshirehistory.com goes. I have added a load of pdf files of text from the Mauchline area to the historical reference area. I have been doing a lot of scanning of my own old photos and documents in the background, so hopefully there will be a flow of updates again for a while. .
JOHN FARQUHAR-GRAY LETTERS ADDED:
I have added a couple of letters dated from 1807 from John Farquhar Gray of Gilmilscroft.
I am unsure how collectable these letters will be, as Farquhar-Gray is reputed to have been the JP that carried out the marriage ceremony for Burns and Jean Armour. (A couple of conflicting stories with that one) A bit about John Farquhar-Gray can be read on the following pages from Robertson's book, 1824. JF Gray is the same chappie who formed the Sorn Curling Club, way back in 1795.
AUCHINLECK PAGES ADDED:
Last year when this web site was redesigned, and a few other towns added, a blank page was included for Auchinleck and Cumnock, on the assumption I was going to find some time to add a few extra pages. Now time has finally permitted me to add some Auchinleck material. I have discovered in an old scrap book, some Curries lemonade bottle labels. which inspired some scanning of the said labels.
SORN AND IT'S NEW BUS SERVICE:
Sorn has been very isolated since the removal of much of the bus service at the beginning of the year. But by a quirk of fate, there is a superb service now, even if it is only for three weeks or so. The Ayr, Kilmarnock and Glasgow buses all pass through the village right up until the last bus at night. This is because the Cross at Mauchline is closed for major roadworks. This is so handy for anyone wishing to go out for a pint at night to Mauchline, Killie, Ayr, Cumnock, etc. I doubt that a one man crusade to keep the service on after the roadworks are finished would have any impact though...!!! lol... Unfortunately there has been some questionable negative publicity in the press regards this service.
TRAFFIC LIGHTS IN SORN??? SURELY NOT:
Some bright spark has decided that traffic lights are required on the New Brig in Sorn. So now, in addition to the already man made traffic noise we have to endure in the village caused by the speed humps, the (local??) government are imposing this ridiculous idea of traffic lights on the bridge in this formerly quiet village. How ignorant is this?? I find it sad there is no one to stop them conducting this vandalism to our village.
Imagine my surprise when driving towards Muirkirk, I spotted a large NO TO TRAFFICLIGHTS IN SORN banner on the gable end of the Post Office!! I was so surprised I halted, ran inside and signed the petition in block capitals!! I was under the impression no one else apart from me cares about the stupid proposed one way traffic on the bridge, and potential extra traffic noise that will be created by these lights, like that created by the wonderful speed humps that have been imposed on the villagers. Seems I was wrong. Well done to all concerned for organisation of this petition. Is the issue here only the lights and not the whole general mess that has been made of the Main Street, including a give way at the bottom of Dalgain Brae, on a blind corner!! Clever??? Safe??? Or a ridiculous abuse of power??
I have made no mention here of the public money wasted on this unnecessary and unwanted rubbish that is seemingly being made obligatory.


Well done to all concerned for standing against this tyranny
Ask yourself this. Are those that make these rules the same mob with "adolf mentality" that made up the rules so that as it stands bin men won't lift rubbish, firemen won't rescue people etc...
About three years ago I was a witness to two ambulance drivers / workers refusing to take a man to hospital after a head injury, because he couldn't give permission to be taken to the hospital. It didn't need Sherlock Holmes to see the poor chap hadn't a clue where he was, far less being fit to make that judgement. Imagine lying almost unconcious on the ground in need of medical treatement, and these guys won't help you, because you don't give them permission to be treated. I really should have redialed 999 that evening.
Ask yourself this. Who is it who makes up these ridiculous rules, and why is there no one to stop them? I certainly never voted for the speed hump and health and safety government at the last election.
I was talking to "RAB DOON THE STREET" recently, who commented that there has not been much done to the web pages in a while. True I thought. Must try and get back to it. Well I have added a few photos from material recently acquired, and some bits and pieces that have been lying around for years. I have to thank Muir Nisbet and Rosina Mabon for their recent additions to the collection, and Jen Gibb in Winnipeg. Thanks to all.
I have also found a few typos in the last month, and repaired them as well.
We have had such a long and quite hard winter for a change, and now we are into a nice warm summer so far. Long may it continue.
The other SORN IN THE SNOW photos that I took during the winter months and promised to share, have never materialised. I may get some more on line in the future though. Keep watching the latest updates.
CONTACT DETAILS REPAIRED:
Yes, a typo crept in to the main contact page, and I wondered why e mails were bouncing to James Taylor at the Muirkirk desk. All fixed now, and working. My humble apologies for that.
I must get back to work with this site. There has been virtually no input this year so far. Hopefully that will change shortly.
KB
26th Feb 2010
UPDATES TO THIS ARCHIVE:
Have been back at work again, just adding a few items that have been waiting for some time to be put on line. I have had some correspondence from Stroma Leith, who's family came from Netherplace in Mauchline. Stroma has sent various interesting photos etc.
I have had some nice correspondence with Lynne in the states, who sent some photos of her father, who died in the aircraft accident in the 1950's in the moors near Blacksidend. I have added these items to the site, as well as a couple of other newspaper clippings that I obtained from the local museum.
(Lynne, I have tried e mailing you back, but the e mails are bouncing. But rest assured, I have your e mails with the attachments)
It will also be my intention to include many more of the 1000 odd photos I took during the snow at the festive season. Imagine trying to take so many with an old film camera!!
NEW MEMBERS OF AYRSHIREHISTORY.COM:
As I have stated in the past, I am still on the look out for passionate, trustworthy people to join ayrshirehistory.com to ensure it's contingency. That could mean long term clubs, organisations, or individuals. I will steer clear of quickly formed groups that may be doing something for the community only because they have achieved substantial amounts of grant money. These groups tend to disband as fast as the money runs out.
I have another enquirey, but we have still to hold a get together with the group to make sure everyone is in agreement and heading in the same direction. Details will follow.
I have to say that the minimum qualification required is the ability to read. lol...
COLD WEATHER:
There have been many dubious news articles about the cold weather snap here in Scotland and the UK as a whole. There are many people nowadays who seem to think it is their right to have a man walking 5 feet in front of them with a brush at all times, incase they should slip!! It is winter for god sake, and with that can come snow. Yes, the white stuff. It's not a new invention. You'd think some country folks around here had never seen snow before, to listen to them.
No it isn't clever to go to the shop in your silly carpet slippers. Living in the country, you might expect more people to have a decent pair of boots to walk outside on the snow. If there were any Scandanavian or Canadians listening to these crybabies, or watching the TV reports about the "awful snow conditions" they have had to bear, they would just laugh at them.
I hate to think where we will be in another 20 years, with this. Maybe everyone will just be sat on their couches waiting for the cooncil to come and spoon feed them? (This was edited from the original idea sitting somewhere else waiting for something to get "dichted"....lol)
Using the river Ayr as a guide, I can say that in Sorn the river was frozen solid in January 2010 and able to take the weight of heavy men easily. It is still solid as I type this, on 14th January.
I can say that looking back through some old photos, I find the river was also frozen solid in 2002, and really frozen around 1997 or 1996. I have also photos from 1981 when there was a big freeze. There must be photos of dates in between, but finding them could be a problem I must approach an amature weather enthusiast who wrote down the wind and temperature etc for many many years.
THE GLOBAL WARMING SCAM:
I am not sure I hear much from the global warming scare mongerers and money grabbers over the last few weeks of low temperatures. Scientists here in the UK were well and truly caught with their trousers down, when hackers got in to a research centre's PC system and nicked a load of e mails. They were caught red handed fixing and manipulating figures related to controvertial supposed global warming, and fixing figures to the desired government results!! This seems to have been washed under the carpet, and not the continous headline news it should be!!
A download of 60 meg is on line of all the emails which contain the details. Here are a few links.
Read about the rogue scientists here on this on line news service
Link to the 60meg file of original material
Anyone with an interest in the Global Warming SCAM, should perhaps watch "The Great Global Warming Swindle", see below.
American talk radio hosts don't miss the liars and hit the wall. Listen to this poor quality recording of one taken from an American MW station on 1180 in Rochester New York, WHAM.
LISTEN TO SEAN HANNITY, AMERICAN TALK SHOW HOST COMMENT
THE GREAT GLOBAL WARMING SWINDLE:
Anyone interested in this subject should watch the excellent documentary, THE GREAT GLOBAL WARMING SWINDLE. Here are a few words about the documentary.

"The Great Global Warming Swindle is a controversial documentary film by British television producer Martin Durkin, which argues against the scientific opinion that human activity is the main cause of global warming. The film showcases scientists, economists, politicians, writers, and others who are sceptical of the scientific consensus on anthropogenic global warming. Publicity for the programme states that global warming is 'a lie' and 'the biggest scam of modern times.'"
http://www.moviesfoundonline.com/great_global_warming_swindle.php
DEATHS IN 2009:
CHALMERS "JOKE" GOUDIE: Another death in 2009 was Chalmers "Joke" Goudie, on hogmanay. Joke as he was known also made many contributions to ayrshirehistory.com in the earlier days of the archive. It was due to Joke's persistance that we managed to find Billy Girvan, who had the old movies of Sorn shot by his father Harry in the 1960's and 70's. Such a time has passed, that I have to think hard of the percentage of the villagers in Sorn today that will even remember "Wee Harry". Maybe it's higher than I think.
JIM NISBET: 2009 saw the death of Jim Nisbet, a contributor to ayrshirehistory.com, and a man who shared much information and local stories in the early days of this archive. Jim lived in Fir Park. Jim was an example of one of the contributors to this archive who had some other material in the form of old cine movies that have not been archived yet, and probably never will be now. This is why local historical records and information need to be saved.
ELLA ANDERSON: Ella Anderson, wife of the late Bobby of Meadowhead, Sorn also passed away in 2009. Ella lived in Fir Park in recent years, and is pictured here on this web site receiving an award for the village from none other than Princess Anne.
GORDON CUNNINGHAM: Old school chum and in later years, drinking buddy Gordon Cunningham passed away unexpectedly in 2009, long before the traditional three score years and ten. Gordon was also a great help to ayrshirehistory.com, and provided web space at one stage when no one else would. He lived on the Catrine Road at Olive Lodge, once home to "Auld Andra Strachan" and Maj, who had the Brewery Bar in Catrine.
GEORGIA ROWE: Young Georgia Rowe of Dalgain Drive also passed away in 2009, a mid a media frenzy.
WILLIE LYLE: Contributor and old pal from Mauchline Willie Lyle died in September 2009. Willie's collection of glass negatives and slides taken by his former relative John Taylor Gibb have also been safely scanned and archived.