2013 - 2012 - 2011 - 2010 - 2009 - OLDER ENTRIES
MUIRKIRK ADVERTISER FILES:
Well, once again the interest in Muirkirk on this web site is way beyond the other locations combined. There is according to the statistics (web stats) again thousands of downloads of the Cairntable Echoes book. But close on it's tail is the meager beginnings of the publication of the Muirkirk Advertisers in full. I have converted more to pdf files (requiring a pdf reader) over the week towards the end of October. It is my hope that by year end, we will be well into this long, but worthwhile project.
I had reason to look up some back issue of the Glasgow Herald the other day, which Google have in their extensive newspaper archives. The quality of these scans of the old advertisers from the early part of the 20th century are so much better quality than the poor quality reproductions done by google. I hope at some point the ayrshirehistory.com style of archive is taken notice of somehow, not only as a potential for possible extra work for myself, but for the sake of legibility moving to a decent standard, that will benefit everyone across the world.

THE RELAUNCH OF POOSIE NANSIE'S DINING ROOM AND KITCHEN:
The all new Poosie Nansie's dining room is due to open on Monday 1st October 2012. Neil and his team have a new and quaintly rustic menu, offering not only Main Meals, but High Teas, Lunchtime Specials, as well as Bar Snacks for those that like their wee pint in front of the horses or football in the bar.
For full details of the re launch, see POOSIE NANSIE'S RELAUNCH.
NB - APRIL 2013, KITCHEN CLOSED
WHERE IS THE BURNS HOUSE MUSEUM??
New signs in Mauchline point to the Loudoun Car Park, as the direction for the Burns House Museum. Has the Museum moved?? No of course not, but the pedestrian tourist walking towards the Museum could be somewhat confused by the sign in the High Street!! The museum is of course straight across the road at the junction, and not left then right at the staggered junction!!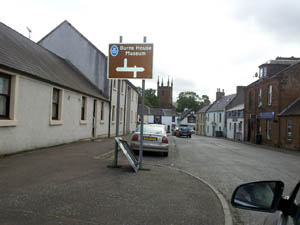 CLOUDBURST IN SORN, JULY 5th 2012:
During the afternoon of 5th July, Sorn Village was hit by heavy rain and thunder and lightning. The localised flooding was pretty unusual, although living in the west of Scotland, we are no strangers to wet weather!! It must have been very localised, as the River Ayr never rose particularly much, although it was running a very sandy colour all day!!
I have added a page of photos of the days flooding!!
OTHER NEWS:
We are still scanning our way through the old copies of the Muirkirk Advertiser. Currently around 35 years worth have been done. It won't be too long before the first of them start to show up on the web site. What a fine archive this has turned out to be, and a real insight into life in Muirkirk in the early 20th century.

"MAUCHLINE SINCE THE TIME OF BURNS" SLIDESHOW LAUNCHED IN THE BURNS HOUSE MUSEUM
A well organised poster campaign spearheaded by Jimmy Davidson assured maximum publicity for the launch day of our slideshow of old Mauchline photos. Jason Sutcliffe of EAC met a group of Mauchline Burns Club members and Clr David Shaw on Tuesday morning, May 29th, to start the ball rolling. Everyone agreed that the slideshow was likely to generate much local interest. Let's hope so.
Already, a couple of extra contributions have been made to the archive of ayrshirehistory.com. Let's hope that this trend is set for the rest of the week. Any material borrowed, will be returned to the owner immediately it is scanned. Anyone that does have anything extra to contribute, please remember to leave contact details in the guest book, or with Drew at the museum.
On Mauchline Holy Fair day, the event will be shown in the Parish Church Halls.
Photos taken in the Burns House Museum on Tuesday morning. Click to enlarge.
POETRY, BY GEORGE McMURDO OF MUIRKIRK - UPDATE:
After some time wondering if we were going to be able to get a hold of the second edition McMurdo book again to scan, see below, it was found to be still available to copy properly this time. Thanks to Grace Goudie for the assistance and loan of the book. Both editions therefore have been scanned and awaiting some time to turn into a pair of pdf files. Much time has been taken up tweaking the slideshow of Mauchline in the last weeks.

POETRY, BY GEORGE McMURDO OF MUIRKIRK:
I bought a wee book off ebay the other night of Poems by Muirkirk Poet, George McMurdo. These are like hen's teeth these days. My book is a first edition.
The thing is, the second edition book I partially scanned in 1998, like many other items on this web site, were the property of people that are no longer with us. For more details, see McMurdo page.
STILL HARD AT WORK SCANNING:
I have been kept busy scanning the old Muirkirk Advertisers in recent months. Of course a few other distractions have been unavoidable during the course of this long repetitive scanning job, none less than the glorious summer weather we had towards the end of March. As I type this up though, in mid April we are back to big winter shirts!! Ain't it strange how the global warming con men are pretty quiet when it's snowing in April!!!
I have come in with a fair amount of new material that needs to be uploaded. And the number of old postcards in my own collection seems to grow every week!!
MAUCHLINE HOLY FAIR 2012:
It is coming around again. Holy Fair time again in Mauchline. And we at ayrshirehistory.com are pleased to be of assistance to the show this year. A digital automated slideshow of old Mauchline and district will be shown for the duration of the week leading up to Holy Fair Day. There should be a few different slideshows going on the various days. On the Saturday of the Holy Fair, the show will be in the Church Hall. Images from the slideshows come from the archives of ayrshirehistory.com.

If anyone wants a full res poster of the right hand image below, click here to download a 6mB flyer, as a pdf file, ready to print off.


BACK TO THE GRINDSTONE:
A belated Happy New Year from ayrshirehistory.com. Regular readers of these pages will have noticed that there have been very few updates lately, and maybe the site looks abandoned! This is anything but the case!! Be assured that much work is going on in the background, and the scanners have been running red hot. There have been some interesting contributions from various folks lately as well, which will find their way on line shortly. But priority is being given to finishing a massive scanning project.
Jimmy Taylor of Muirkirk holds the archives of the Muirkirk Advertiser. Already we have scanned some twenty odd years worth of files, which is over 5000 scans so far!! The papers are larger than A4, and require an A3 scanner for the job, which was recently bought off the web, especially for this very worthwhile project. After that we will be looking towards scrounging some web space to store a large archive like this and make the files public.
For now, Jimmy's books of interesting articles from the old Advertiser files, Cairntable Recollections and Cairntable Echos are both on line. Incidentally, a small oversight on one of the pages where the image has moved, will be repaired soonest. (Another wee job not gotten around to).Oddly, with the amount of hits this site gets for this pdf file alone, I am surprised no one has alerted us to that! Don't worry, we don't bite!! (Often)
NEW WELCOME ARCHIVES IN OUR ARCHIVES:
In more recent times, I have been collecting original old postcards from various sources. Many years ago, I was happy with a good quality scan, but in recent times I seem to have been bitten by the collectors bug as well. Going to postcard fairs of course if one way of adding to the collection, but ebay is such a modern day wonder for armchair shopping!! Of course I am not alone in being a collector, and many of the cards seen on line are well overpriced by the end of the auctions.
But anyway, I was pleasantly surprised just recently when a well stuffed envelope popped through the door. It contained 21 postcards of Galston, Newmilns, and Auld Ayr. I am indebted to Dr Young of Yorkshire for his contribution to these archives and the images will appear on these pages shortly. Thanks also for your kind words about the work already done on this archive.
Other scans have come from Kenny Neil, Rab Borland, Jimmy Davidson, Robin Aitken, Maggie McKerrow, John Faulds, Grace Jamieson and Brian Bogle.
Robin found an interesting little album from Catrine of street parades from the Coronation 1937, or the Jubilee 1935. I am unsure which.
These will appear on line soon, but as already stated, time is being spent hammering on with the back issues of the Muirkirk Advertiser.
Brian had a few images printed in the Chronicle, and as it turned out, these were original old images of some bad quality photo copies I already had on line, But oh is the original so much better. (As you would expect)
JOHN WILSON OF KILWINNET:
John has been no stranger to ayrshirehistory.com, and his recent publication makes good use of some of the archives here.
Announcing a new Book!
******************************
The Tartan Tree
Scotland, Burns, Mauchline and Me
By
John G. Wilson of Kilwinnet
A new book from the author of the popular 1984 publication, The Wilsons: Their Origins and Past. Vocational genealogist John's latest writings cover his childhood growing up in South Ayrshire before he takes his reader with him on his personal voyage of genealogical discovery, firstly as a teenager and later in adulthood. How he discovers his ancestor, Robert Wilson the "gallant weaver" embroiled in the life and times of Scotland's national poet - Robert Burns. John's researches take him to many parts of Scotland to uncover his ancestral past. He also shares stories with the reader on a number of Scottish clans. This is indeed a unique book with something for most readers interested in Scotland's culture, history and people.
Topics covered include:
• John's rural life as a child growing up on farms in 1960's Ayrshire, then life as a teenage
townie in Girvan.

• The towns and villages of Barr, Maidens, Girvan, Maybole, Mauchline and Colmonell.

• Stories on the Highland clans of Chattan, Ewen, Gunn, Lamont, Grant, Gregor, Campbell
and Donald.

• Family names covered include Wilson, Thomson, Bell, Ewing, Forsyth, Barr, Paterson,
McQueen, Johnston/e, Watt, Nimmo and Duncan.

• The castles of Turnberry, Culzean, Craigneil, Toward, Lachlan and Grant.

• Scottish Home Rule and Nationalism, Tartans, Antique Mauchline Ware, Archaeology and
DNA testing for Genealogy.
The Tartan Tree costs £15.00 plus £3.00 p&p UK (£7.00 for overseas airmail) per copy.

Contact John G. Wilson of Kilwinnet

Email: tartantree@hotmail.co.uk
**************************************************
O MY GOD, A POWER CUT:
Does everyone nowadays think that the end of the world has come if there is a power cut?? I have heard some folks get into such a stew recently when there have been interruptions with the supply!! Big deal, get the candles out. It is not the end of the world.
A publican recently surprised me by closing up shop after a worker from the electricity company came in to say power would have to be switched off to make a major repair. Having lived in the country all my days, in Sorn we always sort of took it for granted that there would be some power cuts, often during the winter months. This year has been no exception. It used to be a good night when we had the local pub in the village, as many folks seemed to head for there when the lights went out!!
I can't use the till, I can't pour pints, I've no candles was the half hearted excuses I witnessed recently.. LOL!! How difficult is it to stick cash in a tin box and serve beer from bottles?? The punters could have sat by candlelight telling ghost stories!!!!